Pratt Office
Maydew Thibault Optometry is your primary eye care provider for south central Kansas. From prescribing glasses and contacts to managing eye diseases, we are here to serve you for all your eye care needs.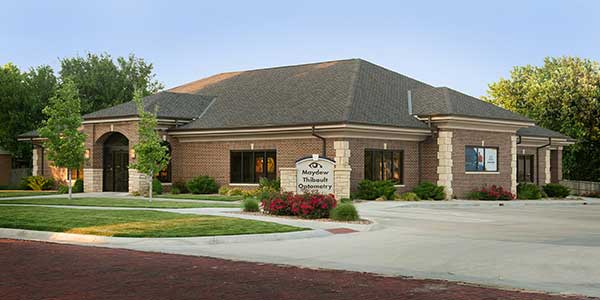 Maydew Thibault Optometry has been your trusted professional provider for quality eye care in the Pratt community for over 20 years. Our experienced doctors offer comprehensive exams and use state of the art technology to aid in the diagnosis and treatment of ocular diseases. We offer the highest quality of vision correction products and services to match all your visual needs. Our friendly staff provides superior customer service with effective communication and timely assistance. At Maydew Thibault Optometry, we are able to serve all your family's eye care needs making a lifetime of healthy vision a reality.
Dr. Troy Maydew

Dr. Troy Maydew, a native of Lebanon, KS, graduated from Smith Center High School in 1985. After high school, Troy played basketball at Marymount College in Salina, KS, for one year then transferred to Kansas State University. He completed his bachelor's degree at KSU in 1989 while also playing basketball for the Wildcats. After graduating, he continued his education at the University of Missouri - St. Louis College of Optometry earning his doctorate and graduating in 1994. After graduation, he and his wife, Kelley, moved to Pratt and joined Dr. Phil Farmer to form Farmer-Maydew, LLC. In his free time, Troy is a sports enthusiast who enjoys participating in and watching multiple sporting activities.

Dr. Seth Thibault

Dr. Seth Thibault was raised in Osborne, KS, and graduated high school in 1995. He attended college at Kansas State University where he graduated with a B.S. in business management and a minor in economics in 2000. After completion of his undergraduate education, Seth decided to attend the University of Missouri - St. Louis graduating with his doctorate in optometry in 2004. That same year, Seth moved to Pratt and took over for the retiring Dr. Phil Farmer forming Maydew Thibault Optometry, LLC. He and wife, Chanielle, have five kids and enjoy spending time with them.

Dr. Andrew Piester

Dr. Andrew Piester is a native of the Pratt area graduating from Skyline in 2003. Following in his family's footsteps, Andrew attended Kansas State graduating in 2007 with a bachelor's in kinesiology. After marrying his wife, Megan, the couple moved to St. Louis where they both continued their schooling. Andrew graduated in 2012 with his doctorate from the University of Missouri - St. Louis College of Optometry. Andrew was hired as an associate for Maydew Thibault Optometry that same year and moved to Kingman in 2013. Andrew and Megan have six children and keep busy with all their activities.